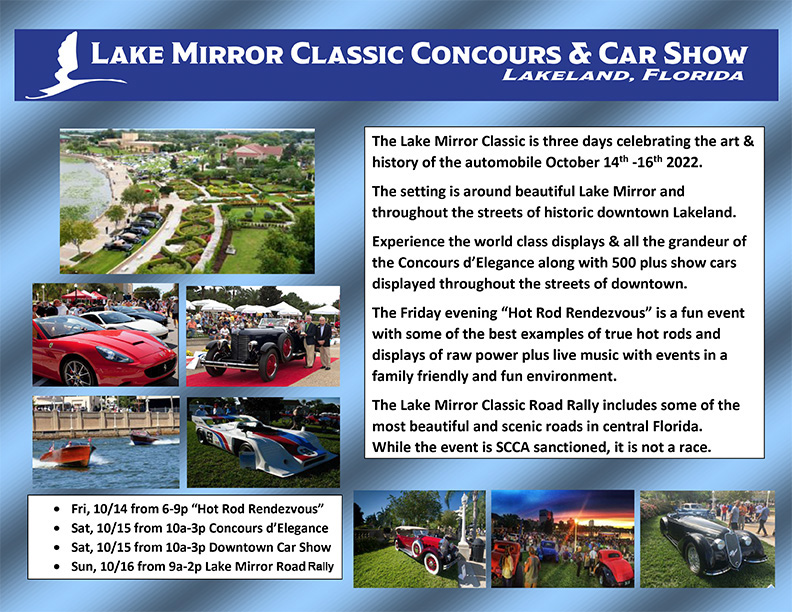 The Greater Orlando and Tampa Chapters of the Ferrari Club of America are celebrating The Lake Mirror Classic as a joint event.  The Lake Mirror Classic is a three-day event celebrating the art and history of the automobile.  It is being held in Lakeland, Florida October 14 – 16, 2022.
 
There will be room for 24 Ferraris to be exhibited around Lake Mirror on the Concourse.  There is a limit of 12 Ferraris from each Chapter.  These cars will be displayed only and not judged in the overall event.  To reserve a spot for your Ferrari, email Larry Heil at lrnzoca@gmail.com.
 
Please include the following information:
Your name
The year and model of your Ferrari
Your Chapter affiliation
 
The cars will be on display from 9 A.M. to 3:00 P.M.  You will be committed to keep your car on display until 3:00.
 
In addition to the various events scheduled by The Lake Mirror Classic, we have an inter Chapter dinner scheduled for 7:00 P.M.  on Friday at the Texas Cattle Company on Lake Mirror.  Details to follow.
 
Because of the need to display your car early on Saturday morning, and the dinner on Friday night, several members plan to stay overnight one or both nights at our host hotel, The Terrace Hotel.  Fifteen rooms have been reserved at a group rate of $279.  You may reserve your room with this link: TAMPA & ORLANDO FERRARI CLUBS (hilton.com)  We will have a hospitality suite at this hotel throughout the weekend.
 
This is shaping up to be a fun-filled Ferrari weekend with an excellent opportunity to meet other Ferrari enthusiasts from both Chapters.  We encourage you to register early to reserve your spot.